Tuesday, 14 February 2017 | Admin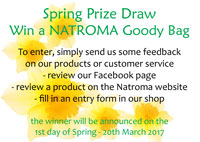 Enter our Spring Prize Draw for the chance to win a Natroma goody bag! Simply send in some feedback about or products or customer service for the chance to win. We'll be drawing the winner on the first day of Spring - 20th March 2017
Tuesday, 13 December 2016 | Admin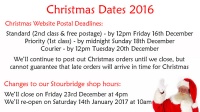 Here's information on Christmas posting deadlines 2016, with information on when our Stourbridge shop at the Ruskin Glass Centre will be closed for Christmas.
Saturday, 3 December 2016 | Admin

Special website discounts for one day only! Join us as we celebrate Small Business Saturday in the UK on 3rd December 2016. It's our way of saying a little thank you, for your support of our small family business!
Tuesday, 15 November 2016 | Admin
Tips on getting the best from our Q10 Moisturisers and Q10 Oil serum. At what age should you think about switching to using a Q10 product?
Tuesday, 8 November 2016 | Admin
Our Natroma Christmas goats milk soap and natural bathing hampers are selling fast - make sure you order early to avoid disappointment!
Tuesday, 1 November 2016 | Admin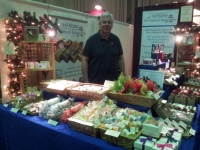 Natroma's going to be out and about attending several Christmas shopping events - hope to see customers at Tatton Park and Himley Hall this year! Local customers should remember to check for changes in our opening hours before travelling in to our Stourbridge. shop.
Tuesday, 25 October 2016 | Admin
New multi-buy discounts are now available on our handmade goats milk soaps. Save £1 when you buy 4 bars of soap - and you can mix and match between Natural Soapworks and Natroma soap varieties!
Sunday, 2 October 2016 | Admin
Thank you to all of our customers - today we reached our 10th birthday!
Friday, 1 July 2016 | Admin
We're delighted to announce that The Green Parent magazine has awarded a Best Buy Award to our Natroma organic Carrot & Calendula goats milk soap, in their 2016 Natural Beauty Awards!
1 Comment
Wednesday, 11 May 2016 |
Admin
Have you ever wondered how we colour our handmade, natural goats milk soaps?
We're really passionate about creating natural aromatherapy soaps. After going to the trouble of making our soap by hand, using only skin-kind natural soap ingredients, it would be crazy if we tipped in a bottle of synthetic colour! So how do we add colour without the chemicals?