Wednesday, 13 December 2017 | Admin
Here's information on Christmas posting deadlines 2017, with information on when our Stourbridge shop at the Ruskin Glass Centre will be closed for Christmas and New Year 2018.
Tuesday, 21 November 2017 | Admin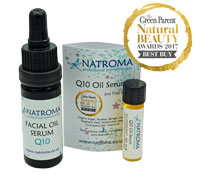 Here's an update on our Q10 Oil Serum - an award winning organic facial oil serum that's full of organic botanical oils including argan, rosehip and borage with a lovely aromatherapy blend of essential oils. Thank you for the fantastic customer feedback, we are really delighted that this lovely aromatherapy product is helping so many people with their skin!
Saturday, 2 September 2017 | Admin
We'll be taking a short summer break which means our Stourbridge shop is closed until 9th September 2017. Website orders will be processed as normal
Wednesday, 23 August 2017 | Admin

introducing Festival - our limited edition organic goat's milk soap to commemorate this year's International Festival of Glass in Stourbridge, UK.
Saturday, 1 July 2017 | Admin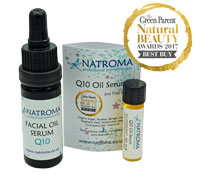 We're delighted to announce that The Green Parent magazine has awarded a Best Buy Award to our Natroma organic Q10 Facial Oil Serum, in their 2017 Natural Beauty Awards!
Tuesday, 27 June 2017 | Admin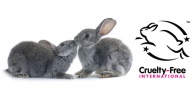 Delighted to announce that Natroma handmade aromatherapy skincare has recently passed its 2017 Humane Cosmetic Standard Audit
Thursday, 8 June 2017 | Admin
Read about our new Natroma Organic Balms - full of ethical, organic natural ingredients with pure aromatherapy fragrances. These have been developed especially to help skin conditions like eczema, helping to soothe and smooth any patches of dry skin on the hands, feet, elbows, knees etc.
Wednesday, 12 April 2017 | Admin
Natroma is taking an Easter break, which will lead to a short delay in processing website orders.
1 Comment
Tuesday, 21 March 2017 |
Admin
Natroma's response to the recent BBC investigation into paraffin based skin creams being linked to fire deaths. Natroma confirms that none of our products contain petroleum derived ingredients, and we continue to recommend using botanical oils and butters to cope with dry skin conditions like eczema and psoriasis.
Tuesday, 14 February 2017 | Admin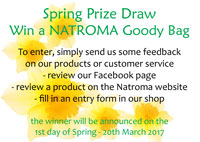 Enter our Spring Prize Draw for the chance to win a Natroma goody bag! Simply send in some feedback about or products or customer service for the chance to win. We'll be drawing the winner on the first day of Spring - 20th March 2017