Natroma 15th Anniversary Prize Draw
As part of our 15th Anniversary celebrations we're running a Prize Draw during October.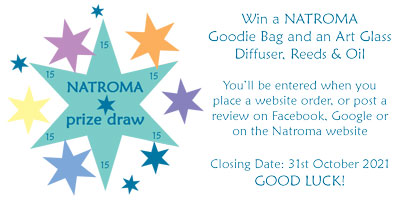 The prize will be a mixed variety of Natroma products and an Art Glass Reed Diffuser Bottle, reeds and a bottle of diffuser oil.
If you place an order with us this month you'll automatically be entered into the draw, but you can also enter by posting a product or service review.
You can enter as many times as you like, but must review a different product each time. Simply visit the product page and enter your review, or recommend us on our Facebook page or post a Google review.
The prize draw closes on 31st October 2021.
Good luck!
UPDATE: and the winner is Jo Bell! Congratulations we have posted out your goodie bag to you!