Sunday, 25 July 2021 | Admin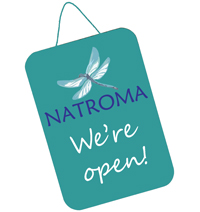 We're very pleased to let everyone know that after being a victim of the UK pingdemic, Natroma is open again!
So sorry that we were forced to be closed this week, but we felt it was the best precaution. As it turns out, our frustrating week of isolation was a waste of time, since we are double jabbed and continued to feel fit and well (proved by regular lateral flow tests).
Thank you for your kind messages of support and patience - we're delighted to be back to normal service again!
Saturday, 17 July 2021 | Admin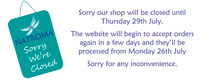 Sorry we're closed! Unfortunately Paul has been pinged by the Covid app so will need to self-isolate for a week. We're both fit and well but as a precaution we'll be closed for a week. We'll re-open the website checkout later next week and will process orders from Monday 26th July onwards. Our shop will re-open again on Thursday 29th July 2021. Really sorry for any inconvenience caused, but this is beyond our control.
Thursday, 1 July 2021 | Admin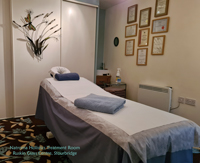 We're delighted to announce that our Natroma Holistics Treatment Room has re-opened. Enjoy relaxing aromatherapy treatments in our covid compliant treatment room at the Ruskin Glass Centre, Stourbridge West Midlands UK.
1 Comment
Sunday, 11 April 2021 |
Admin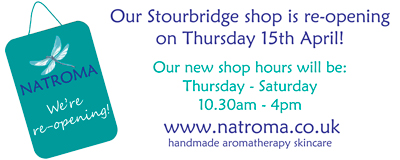 We are looking forward to welcoming customers back to the Natroma shop from Thursday 15th April 2021.
We will be working as normal each week, but have decided to reduce our shop opening hours to:
Thursday - Saturday 10.30am - 4pm
We will review this again, once the re-opening of the Ruskin Glass Centre cafe is confirmed.
Saturday 17th April 2021 - we'll be closed
As a mark of respect, our shop will be closed on the day of HRH The Prince Philip, Duke of Edinburgh's funeral.
Monday, 29 March 2021 | Admin
Natroma will be closed for an Easter break.
We'll post out orders received by midday on Wednesday 20th March before Easter but orders will then be delayed.
Due to website maintenance, we won't be accepting orders between Thursday 31st March - Tuesday 6th April 2021.
Orders placed after the 6th will be delayed until Monday 12th April 2021, and we'll then process them in the date order they arrived.
Our shop will re-open on Thursday 15th April 2021.
Tuesday, 12 January 2021 | Admin
Please read the following item, which explains about the Natroma priority order for us dispatching orders. It also mentions the UK post codes that are experiencing postal delays during the UK lockdown.
We'd ask that you now allow 10-14 days for Royal Mail items to arrive.
For urgent orders please use the courier delivery option.
Thursday, 7 January 2021 | Admin
Even though the Natroma shop will is closed during the 3rd England Lockdown, we will be working as normal processing website orders.
Please read about how we'll operate. We have also provided more information on how we prioritise orders, so you can select the right postage option for your order.
Please note that we are currently not shipping to the EU (due to Brexit and changes in the regulations relating to the export of cosmetics to EU countries), but are still sending parcels to Northern Ireland, the Isle of Man and the Channel Islands.
Saturday, 12 December 2020 | Admin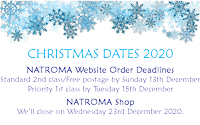 Please read this article for information about our 2020 Christmas order deadline and when we'll be taking our Christmas and New Year break.
Christmas Order Update - all orders received by 23rd December were posted out
Our shop will be closed in January 2021 due to Tier 4 Covid-19 restrictions,
We will now begin to process website orders, early in January 2021.
Thursday, 3 December 2020 | Admin
Information on how to shop with Natroma during December in our shop at Ruskin Glass Centre, Stourbridge.
We have extended opening hours and private shopping appointments available!
Monday, 16 November 2020 | Admin
We are aware of a problem on the Natroma website, whereby hotmail, outlook, live and msn e-mails are bouncing.
This affects any e-mails we are sending to confirm orders and send shipping updates. Where we are aware of a bounced e-mail, we are re-sending via a naturalsoapworks e-mail account. We just want to reassure everyone that the website is working fine and that orders are arriving safely, so it's just the confirmation messages that are going astray. For the time being, where possible, we'd be grateful if customers could try to use other e-mail accounts (gmail etc) for order correspondence.
We are working to resolve this problem asap, and apologise for any inconvenience.
UPDATE: Problem is now resolved.