1 Comment
Monday, 3 August 2020 |
Admin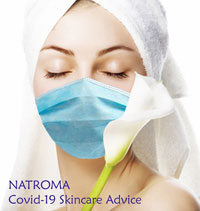 At Natroma we're receiving lots of queries about skincare problems that relate to the wearing of face coverings and masks to stop the spread of Covid-19. Customers are telling us that they're having break outs, acne and rosacea flare ups, problems with dry skin and skin irritation. This article, gives a few tips on how to look after your skin, and cope with the problems that are caused by wearing a face mask. We hope it helps!
Sunday, 14 June 2020 | Admin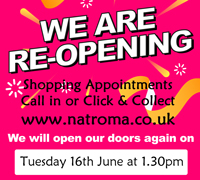 At last we have the go ahead, for small shops to re-open after the UK lock down!
At Natroma we have carefully considered safety within our small Stourbridge shop, and have carried out the required Covid Secure risk assessment of how we can safely operate. This article covers our new Click & Collect service, local deliveries and Shopping Appointments in our shop.
Website orders for those customers that live further away, will be processed as normal!
Saturday, 13 June 2020 | Admin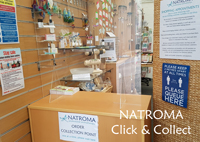 Updated information on how Natroma is responding to the coronavirus pandemic in the UK.
Our Natroma shop is re-opening at Ruskin Glass Centre on Tuesday 16th June 2020.
We are now offering customers the option to order via the Natroma website, and to collect their order from our shop. The Click & Collect service is free and will allow us to prepare orders ready for collection, ensuring everything is in stock, payment is received remotely and customers can safely visit our shop.
Please read this article for further information on Natroma Click & Collect will work.
2 Comments
Thursday, 14 May 2020 |
Admin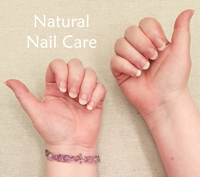 We're often asked about how to grow long nails.
This article talks about how to care for the nails naturally. It includes tips on what you can do to strengthen them, and how a good nail balm (like our award winning Nail Silk!) can be used for hand massage and to prevent the nails from breaking and splitting.
Monday, 27 April 2020 | Admin
This is an update on the postal situation during the coronavirus pandemic. Natroma parcels are being processed within 1-2 days, but there are delivery delays in some parts of the country.
Saturday, 4 April 2020 | Admin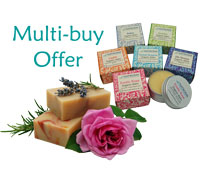 Our latest blog article looks at how to care for the hands during the coronavirus pandemic. Extra hand washing and using alcohol hand gels will lead to drier skin.
So we hope this information about hand washing and how to care for the skin, will help everyone take these steps to ensure their hands and fingers don't become sore.
2 Comments
Tuesday, 31 March 2020 |
Admin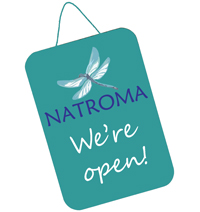 In response to the Covid-19 pandemic, and requests from local customers to try to collect items from our shop, we are pleased to announce that Natroma will be trialing a local delivery service in the Stourbridge area. It will initially cover areas within a 1-2 miles of our Stourbridge shop and will be available on orders over £7.50. We hope to expand to a wider area if there is sufficient customer demand.
Where we can, we will be pleased to offer free local deliveries to those customers who are self isolating for 12 weeks.
Local deliveries within about 1 mile of our shop will be free, with a small fee for areas that are a little further away.
We hope this helps our local customers during these difficult times.
2 Comments
Monday, 23 March 2020 |
Admin
Updated information on how Natroma is responding to the coronavirus epidemic in the UK. We'd like to thank our customers for their support, Please read this article for further information on how this is impacting our shop and website orders.
1 Comment
Monday, 16 March 2020 |
Admin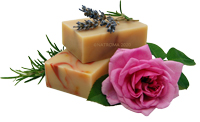 As the coronavirus outbreak escalates in the UK, we're receiving many queries about why the Government is advising everyone to wash their hands with soap. From our conversations it's clear that very few people really understand how soap works, and they also do not appreciate that soap works far better than sanitiser hand gels when it comes to tackling Covid-19. So this article explains the science behind how natural soap works, and why it is so effective in removing the coronavirus, when we wash our hands.
Wednesday, 11 March 2020 | Admin
Update on Natroma's position on the Corona virus situation in the UK.