Monday, 16 November 2020 | Admin
We are aware of a problem on the Natroma website, whereby hotmail, outlook, live and msn e-mails are bouncing.
This affects any e-mails we are sending to confirm orders and send shipping updates. Where we are aware of a bounced e-mail, we are re-sending via a naturalsoapworks e-mail account. We just want to reassure everyone that the website is working fine and that orders are arriving safely, so it's just the confirmation messages that are going astray. For the time being, where possible, we'd be grateful if customers could try to use other e-mail accounts (gmail etc) for order correspondence.
We are working to resolve this problem asap, and apologise for any inconvenience.
UPDATE: Problem is now resolved.
Monday, 2 November 2020 | Admin
Even though the Natroma shop will have to close during the 2nd England Lockdown, we will be working as normal processing website orders. Please read about how we'll operate here.
Read here for the update on Local Deliveries.
Wednesday, 14 October 2020 | Admin
We need to temporarily close Natroma for a few days.
Please read for more information on our arrangements between 16th - 27th October 2020. This week, the last date for us shipping website orders will be Friday 16th October 2020.
Orders placed after this date will be delayed for approximately 1 week. Our shop will re-open again on Wednesday 28th October 2020.
Thursday, 1 October 2020 | Admin
This article provides CLP information and explains the labelling of Natroma Candles, Reeds and Wax Melt products.
1 Comment
Monday, 3 August 2020 |
Admin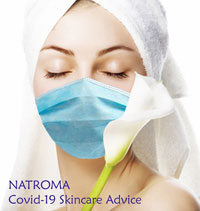 At Natroma we're receiving lots of queries about skincare problems that relate to the wearing of face coverings and masks to stop the spread of Covid-19. Customers are telling us that they're having break outs, acne and rosacea flare ups, problems with dry skin and skin irritation. This article, gives a few tips on how to look after your skin, and cope with the problems that are caused by wearing a face mask. We hope it helps!
Sunday, 14 June 2020 | Admin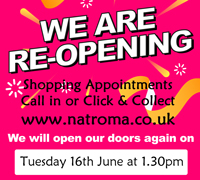 At last we have the go ahead, for small shops to re-open after the UK lock down!
At Natroma we have carefully considered safety within our small Stourbridge shop, and have carried out the required Covid Secure risk assessment of how we can safely operate. This article covers our new Click & Collect service, local deliveries and Shopping Appointments in our shop.
Website orders for those customers that live further away, will be processed as normal!
Saturday, 13 June 2020 | Admin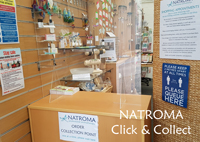 Updated information on how Natroma is responding to the coronavirus pandemic in the UK.
Our Natroma shop is re-opening at Ruskin Glass Centre on Tuesday 16th June 2020.
We are now offering customers the option to order via the Natroma website, and to collect their order from our shop. The Click & Collect service is free and will allow us to prepare orders ready for collection, ensuring everything is in stock, payment is received remotely and customers can safely visit our shop.
Please read this article for further information on Natroma Click & Collect will work.
2 Comments
Thursday, 14 May 2020 |
Admin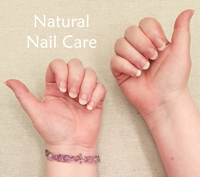 We're often asked about how to grow long nails.
This article talks about how to care for the nails naturally. It includes tips on what you can do to strengthen them, and how a good nail balm (like our award winning Nail Silk!) can be used for hand massage and to prevent the nails from breaking and splitting.
Monday, 27 April 2020 | Admin
This is an update on the postal situation during the coronavirus pandemic. Natroma parcels are being processed within 1-2 days, but there are delivery delays in some parts of the country.
Saturday, 4 April 2020 | Admin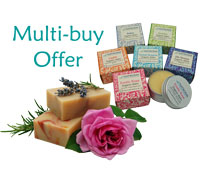 Our latest blog article looks at how to care for the hands during the coronavirus pandemic. Extra hand washing and using alcohol hand gels will lead to drier skin.
So we hope this information about hand washing and how to care for the skin, will help everyone take these steps to ensure their hands and fingers don't become sore.