Natroma Spring Prize Draw
Natroma Spring Prize Draw 2017
Last year we held a prize draw to celebrate our 10th birthday. We received such lovely feedback, that we've decided to run another one! This time we've decided to celebrate the beginning of Spring, so one lucky person will win a Natroma Goody Bag on the 1st day of Spring - 20th March 2017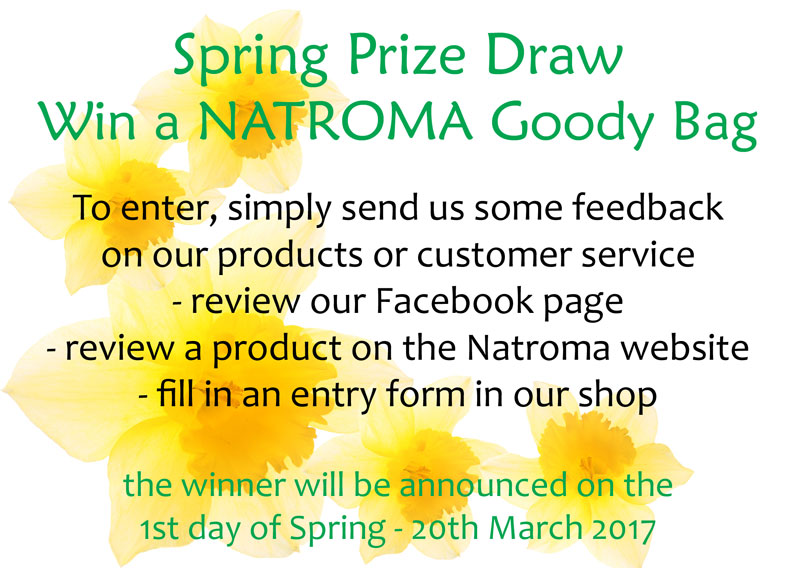 HOW TO ENTER OUR NATROMA SPRING PRIZE DRAW:
To enter our prize draw, you simply need to post a product or company review on the Natroma website (each product has a review tab on it's page), or add a review on our Facebook page or fill out an entry form in our Stourbridge shop.
Simply nominate your favourite Natural Soapworks or Natroma product give it a star rating out of 5 and say why you like it. (We'll be adding the feedback we receive to our Natroma website, since we know that the product and customer service reviews help new customers to select the right products for their skin).
Anyone who has sent in a product review this year will automatically be since entered into the prize draw.
We'll be drawing out the lucky winner on the 1st day of Spring 20th March 2017 - Good Luck!
And the winner is......Emily Fletcher
Our thanks to everyone who entered our competition. Emily has won a Natroma goody bag, after posting some lovely reviews about her experience with our gift hampers and bath bombs!