Natroma Q10 Oil Serum - Customer Feedback
Natroma Q10 Serum - our Award Winning Organic Facial Oil Serum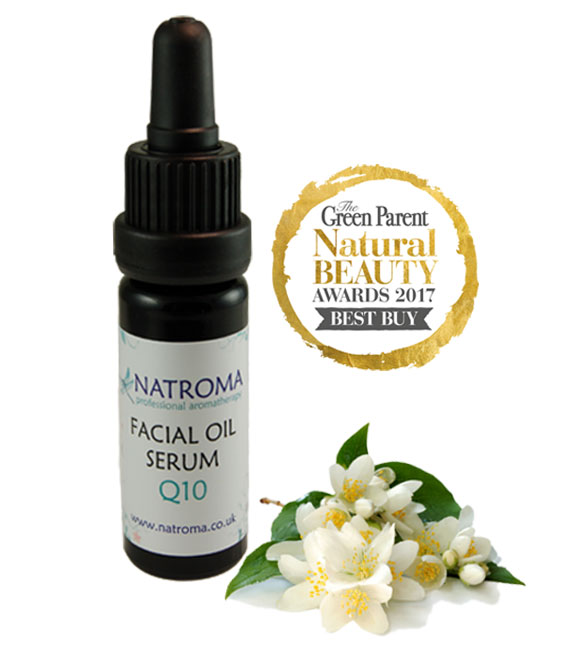 Thank you for the fantastic customer feedback about our award winning Q10 Oil Serum!
As customers will be aware, in the Summer we won a Natural Beauty Skincare Award for our Natroma Q10 Oil Serum. We introduced a new trial size phial of the oil, and this has encouraged more customers to give it a try. We just wanted to say thank you for the fantastic response, and we are really delighted that so many people are now using the oil and it's really making a difference to your skin. There are some lovely product reviews and comments being posted on our Q10 Oil Serum and Q10 Trial Size pages. Everyone seems to be loving the non-greasy texture, that it sinks in so easily and that it leaves the skin feeling velvety afterwards.
One of the most amazing feedback stories, is that we've just discovered that one of our customers is a secret product tester for a very well know national cosmetics brand. Lizzy began using our Q10 Oil Serum in 2016, but we hadn't seen her for quite a while. She called into our shop a few days ago to explain that she hadn't been able to use our products for over 6 months because she'd been part of a long trial for a very posh facial serum that's about to be launched by the national brand. She has just posted a review about our Q10 serum that says it all:
"Having used this for several months I was given the opportunity to complete a trial for testing another oil serum for one of the larger skin care companies. Having religiously used the trial serum ; which boasted of botox type results; for several months I found it to be completely ineffective. I have been desperate to return to the amazing Q10 serum and today at long last I have been able to purchase some more. This serum ticks lots of boxes- it is fantastic value for money and extremely long lasting, it is wonderfully absorbant leaving the skin feeling soft, nourished and rejuvenated. I'm so happy to have this product back on my bathroom shelf!! I can't recommend this enough - give it a try - you won't be disappointed"
We are so chuffed to hear that an experienced cosmetics product tester thinks our Q10 Oil Serum is better than a product by one of the "big boys"! Lizzy, thank you so much for the lovely feedback, it really did make our day. We hope this inspires some more people give it a try.