Handmade Natural Soap - is it worth the price?
Just lately we've spoken to a few people who, during their visit to the Ruskin Glass Centre, decided to have a quick look round the "soap shop". We can tell from their comments that they haven't considered using handmade natural skincare before, and have no idea what ingredients are in their usual brands, but they've basically told us that our soaps are a 'bit pricy'! So after a nice little chat they've left us, and no doubt went off to buy some cheap synthetic detergent bars from the supermarket. So to coin a well known phrase......
Is our handmade natural goats milk soap worth it?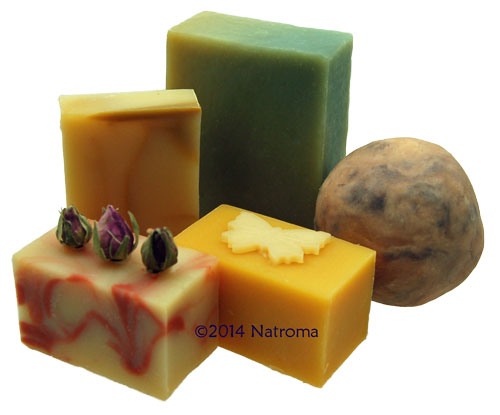 We think that we started The Natural Soapworks for the right reasons - to help people with sensitive skin (like us) by formulating and hand making top quality aromatherapy products full of natural, cruelty-free ingredients. Back in 2006 we were one of the first UK soap companies to start a soap company from proper business premises, rather than our kitchen. So that immediately added huge operating costs as well as the expense of insurance, cosmetic testing, setting up the manufacturing facilities, buying the correct trade scales and equipment etc - but it was the right thing to do. So if people think it is was a "get rich quick" scheme, they are mistaken! Handmade soap makers in our experience are dedicated to their craft, and start their businesses knowing that soap making won't ever turn them into millionaires.
Our dedication to wanting to take the natural soap making route, meant that we'd made things hard for ourselves. It meant that we couldn't reach for a cheap bottle of fragrance oil - it had to be the much more expensive pure essential oils, and many of these do not work in handmade soaps (their fragrance evaporates almost immediately). We also couldn't tip in synthetic colours so like the essential oil testing, we had to painstakingly test natural botanical colourants to see which ones worked. We refused to use cheap tallow (the rendered animal fats that appear in many commercial soaps), so this meant we had to use more expensive botanical oils. Even then, we wouldn't compromise on product quality, so our soaps were developed with cruelty-free, ethical natural ingredients sourced from trusted, quality suppliers. We insisted that the main ingredient in our soaps was expensive olive oil. We splurged with additional natural goats milk (a difficult ingredient to work with in a handmade soap, but it's worth it because it calms sensitive skin), moisturising oils and botanical butters. To this day, our handmade goats milk soap formulation is the same as when it was launched - perfected over 3 years (to help our own eczema and skin problems) before we started the company and extensively road tested before our first customer ever used it on their skin. No synthetics, no detergents, no tallow, no propylene glycol, no preservatives.....no nasties!
What this means, is that Natural Soapworks customers receive a top quality handmade natural soap. We guarantee absolutely no animal testing on our natural skincare ingredients or final cosmetic products. We guarantee that the essential oil blends in our soaps are carefully blended by an experienced qualified Clinical Aromatherapist, so it's not just about how our handmade soaps smell. We think about the chemistry and synergy of the blend - a careful knowledgeable balance of the essential oils so they naturally support the skin. Every natural ingredient is there for a purpose - to achieve our long lasting natural soap bar, with it's bubbly creamy lather that doubles as a body wash and helps people with eczema and skin sensitivities. We guarantee that our goats milk soaps are handmade, hand cut, hand trimmed, carefully cured and packaged by ourselves - always thinking about the environment at every step in the manufacturing process (which can take several months before the final handmade soaps are ready for sale in our shop).
We often say that we build our products backwards, since we formulate and select the natural ingredients for their performance within the product - not their cost. Whereas a commercial product is often created with a specific price point in mind, factoring in containers, packaging, labelling, marketing and advertising, manufacturing costs, distribution, profit margins.... and then whatever's left over can be spent on the actual ingredients! So it's hardly surprising that many soaps containing tallow, synthetic detergents, synthetic additives and much cheaper palm and sunflower oils as their main ingredients. At the end of the day you always get what you pay for, so as a consumer only you can decide if your skin is worth a little extra expense.
So is The Natural Soapworks handmade goats milk soap worth it? We think so.