Happy New Year 2016!
New Years greetings from Natroma!
We'd like to wish all of our customers a very happy and successful New Year! We've really appreciated your on-going support, custom and product reviews, so thanks for choosing Natroma and here's to a fantastic 2016!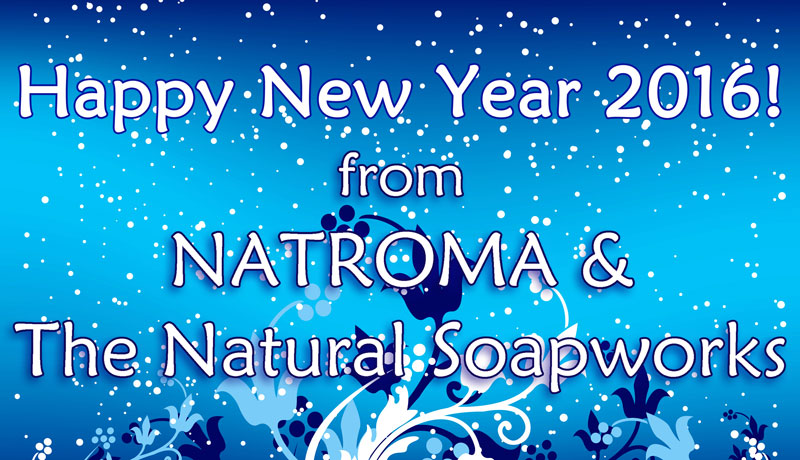 We've decided to make a few New Year's resolutions....
The first is that we'll finally start sending out Natroma newsletters. We know how irritating it is to be constantly bombarded with spammy sales messages, so we'll only send a few during the year (maybe one every 2-3 months). But it will allow us to update everyone with our latest news, product and aromatherapy tips and special offers etc. We'll also be updating our Facebook page more often too. So if you're interested in natural skincare or aromatherapy, then please like our Facebook page or sign up for the newsletter.
To celebrate the start of 2016, we're offering a New Year's discount*. The code will be published on New Year's Eve on our Facebook page and will be e-mailed to everyone who's signed up for our newsletter. It will be valid on orders placed by midnight 3rd January 2016. To redeem, simply type the code into the coupon box and click "update basket" before you reach the checkout. So why not treat yourself, and we hope you enjoy your New Year's break!
The small print*
Discount code can only be used once on each customer account. Use of the discount code will override any other on-site discounts (e.g. soap multi-buy offer), but Natroma Club loyalty points will still be awarded on orders.
Code must be input in the Coupon/Voucher code box before checking out the basket and must be used by midnight on Sunday 3rd January 2016. Sorry, but discounts cannot be applied retrospectively.
The discount code does not apply to certain products e.g. holistic therapy bookings.
New Year discount orders will be processed in the order in which they arrived from Tuesday 5th January 2016 onwards. It is likely that New Years orders will take a little longer to arrive than normal, and will be subject to stock availability. UK Customers that spend over £30 (after the discount has been applied) can still qualify for FREE standard postage.