New Product! - Natroma Q10 Plus Facial Oil Serum
Natroma Q10 Plus Organic Facial Oil
We are pleased to introduce a new organic facial oil to our range! Natroma Q10 Plus is a new facial oil that has been developed in response to customers who have been asking for a more intense version of our award winning facial oil serum.
Q10 Plus, was developed to suit drier skin types, that are in need of extra hydration. Some of our customers were telling us that they were using 3 drops of the Q10 Oil Serum but felt they needed to use more. We therefore decided to formulate a richer version of the oil, with more penetrating botanical oils for those customers who have drier skin. The original Q10 Oil Serum is loved by so many customers because it doesn't feel oily after it has been applied. So this version does feel richer, and contains luxurious macadamia oil in combination with deeply penetrating avocado oil. it is perfect to use as a night treatment oil, but is still suitable for use as a day oil and is ideal to layer under our Q10 Moisturisers.
The Q10 Plus contains macadamia oil - a lovely oil that's deeply moisturising and perfect for when extra hydration is required. The avocado oil is another lovely oil that penetrates deeply, supporting the lower layers of the skin. We'd describe both of these oils as having a richer 'oilier' skin feel. Rosehip oil by comparison is often described as being a dry oil, because it contains fewer fatty acids so does not leave an oily residue on the skin. So new users of the Q10 Plus Facial Oil may find that initially the skin may feel slightly more oily, but it sinks in to leave a velvety feeling on the skin. We'd advise customers to try using a little less than usual, until they have worked out what their skin requires.
This new Q10 Plus Facial Oil Serum has been road tested by a panel of trusted, long-standing customers who kindly volunteered to help. We stipulated that anyone who took part in the test, needed to have used the current Q10 Oil Serum. In this way, we would have a fair comparison of the two oils, and at the end of the test everyone was asked which one they preferred. We also ensured that we had a range of testers, with different skin types and ages that ranged from in their 30's to in their 70's. We expected that this version of the oil would be better suited to slightly older customers with drier skin types. But to our surprise, nearly every tester preferred the Q10 Plus! Several did find that it took a while to get used to the oil, and several had to adjust how much they were using. But after the test, we had a group of testers from all ages asking when they could purchase the new version.
We have posted some of their feedback on the Q10 Plus Facial Oil Serum page, and would encourage you to read their comments.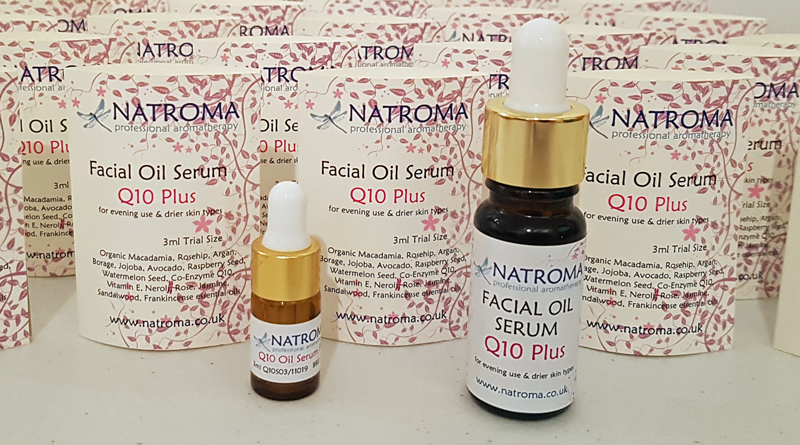 To celebrate the launch of our Q10 Plus, we have some freebies for orders/shop purchases made before midnight on 31st October 2019:
Receive a FREE 3ml Trial Size Q10 Plus* with:
- any 50ml Q10 Moisturiser
- any Q10 Travel Size Kit
- or if you spend over £35 (in a single order/transaction)
Or
Receive a FREE 10ml Q10 Plus dropper bottle*:
If you purchase a 100ml Cleanser, a 100ml (blue glass) Hydrolat Toner and a 50ml Q10 Moisturiser at the same time.
* You will receive one free item per transaction, on purchases made via this website or in our Stourbridge shop. There's no need to apply a voucher code, we'll automatically add the appropriate sized bonus Q10 Plus as we package your order.