The challenges of packaging natural cosmetic products
How Natroma is caring for the environment
There are currently lots of articles in the news and across the internet, covering the excessive use of plastics and product packaging. Not surprisingly we've received a few e-mails from customers, asking about why some of our products are packaged in plastic or why we've sent out a parcel that contains packaging chips. A few months ago we were also disappointed to discover some comments on Facebook criticising one of our hampers. So we've decided to clarify where Natroma stand on this.
We're a very small manufacturer but we've always been committed to using the greenest possible, environmentally friendly packaging and for years (before it was even being discussed by the media) we were warning customers about micro plastics in cosmetics etc. We have always selected ethical ingredients and this is why our products are approved under the Leaping Bunny (Humane Cosmetics) standard. Cosmetics are covered by legislative requirements so certain packaging and labelling is mandatory for the product to be sold. When selecting packaging for a product, we also have to take into account the fact that our products contain so many natural ingredients.
A few people have asked why we wrap our bath bombs and bath melts in bags, when companies like Lush don't. It's because our bath bombs only contain essential oils and these completely natural fragrances evaporate very quickly. Products that contain fragrance oils can get away with being left open for a while, and this is why these products often seem so highly scented compared to a natural one. Completely natural fragrances need to be protected since essential oils evaporate so easily, and we want our customers to enjoy the aromatherapy benefits of our products. When we started the company we originally packaged our bath bombs in tissue paper, but their high apricot kernel oil content (it's in all of our bath bombs so your skin will feel soft and moisturised after your bath) quickly ruined the packaging and they lost their smell. So many years ago, we switched to using expensive natural cellulose bags (they look like cellophane but are made from a biodegradable cellulose film) so they'll break down once the bag comes into contact with sufficient moisture or heat. We've never made a fuss about it, but rest assured if you purchase items we package in clear bags (e.g. muslin cloths, bath bombs, bath melts, soap chunks etc), the bags will biodegrade.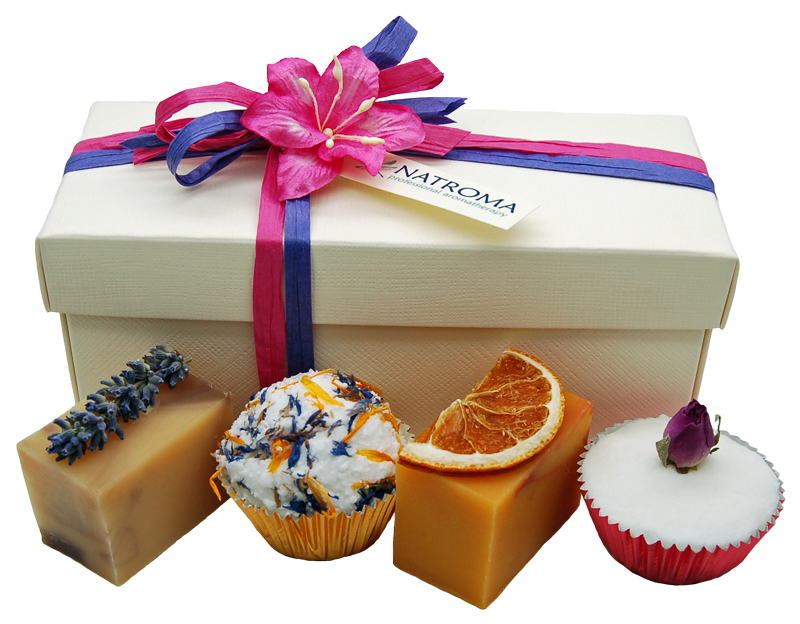 Our soaps only contain natural oils and are fragranced with essential oils - which evaporate easily. So natural soaps should ideally be stored in boxes made from natural materials like paper or cardboard (real soaps continue to dry out as they age so they need to breathe and should never be stored in plastic boxes) to maintain their fragrance for as long as possible. This is why ours are packaged in cardboard boxes (our new vegan soaps are packaged in 100% recycled boxes with recycled paper wrappers) which are completely recyclable and biodegradable. Our bath salts are packaged in recycled glass bottles with natural corks. Where possible we have always used aluminium or glass bottles, because they can re-used for re-fills many times and eventually can be completely recycled into new products.
We have always used cardboard hamper boxes (many of these are made with recycled cardboard) and paper carrier bags. We occasionally issue plastic bags in our shop - e.g when a Himalayan Salt Lamp is too heavy for a paper bag, but these are made from green recycled plastic that is biodegradable (and we issue so few of these, we're still working through some bags we purchased over 5 years ago!) We use paper shred and tissue paper packaging for our hampers. We only ever purchase biodegradable packaging chips or biodegradable bubble wrap. So if you ever receive a hamper from us wrapped in clear bubble wrap or containing a different type of loose fill packaging, or perhaps in a used outer box, it's because we're recycling something we're received from one of our suppliers. We suggest that you do the same, and save our packaging so it can be re-used again when you next send out a parcel. Who knows how many uses we may get out of the same packaging materials, if we all re-use the packaging we receive through the post.
onto the thorny issue of plastics....
So what about our Natroma facial products? First of all we want to reassure customers that we keep our plastic use to a minimum. Where we use plastic containers, they are made from HDPE, PET or PP. We choose these materials since they are durable, do not react with essential oils and are easily recyclable. Our creams have to be packaged in closed containers so we currently use airless pumps made from PP plastic, because they are hygienic and the pumps are fully recyclable. Our issue here, is that we are trying to produce products that are as natural as possible so we use mild preservatives to help people with sensitive skin. We use airless packaging since it prevents the customer contaminating the product with their fingers. Where water containing cosmetic products (such as facial creams) are packaged in open jars, they need much harsher preservative systems to kill the bugs that are introduced whenever the fingers are dipped into the jar. Sadly airless glass packaging doesn't exist, and we have rejected airless packaging that is made from plastics that cannot be recycled (such as PVC) since these will inevitably end up on landfill. As a very small manufacturer, if we could purchase something that was more environmentally friendly (we're usually prevented from doing this due to the bottle manufacturers insisting on minimum order qualities of 10,000 units, per size) we would!
For our other products we always try to use containers that can be re-used. We always encourage shop customers to return their glass bottles to have liquid products such as carrier oils, serums, botanical oils and hydrolats re-filled. In this way, we aim to keep the number of bottles we purchase to a minimum. We now offer the option of glass bottle refills for website customers too. We'd encourage customers to try to reuse these bottles where they can - they make great blending bottles if you're adding essential oils to carrier oils etc.
We think that the Facebook comment was because one of our hampers (it was wrapped with natural cotton ribbon, in a recycled cardboard hamper box) had a festive decoration which contained some plastic. Usually we use paper flowers, but this was a Christmas hamper and we originally chose the decoration because it was mainly made of fabric. We are currently using up a supply of festive decorations, some of which have plastic components. We have decided to use them up now that we have them, since it seems pointless to send them to landfill unused. But we have decided not to purchase any more, and have discussed this with the manufacturer specifically asking them to source recycled and natural materials in the future. Feedback from our shop customers is that they want us to continue using pretty ribbons on our hampers since they are usually re-used again. But we are also using more raffia, string, cotton, hessian and jute ribbons since they are biodegradable. Going forward we will continue to listen to customer feedback on whether you would still like Christmassy hamper decorations or plainer natural materials.
After reading this quite long article, we hope that customers can see that at Natroma we do care about the environment. We are trying to produce ethical cruelty-free skincare products and genuinely want to minimise the environmental impact of what we do. We are constantly looking at our packaging options and will be taking steps to minimise or reduce the amount of packaging that we use in the future. Watch this space, packaging free items are coming soon!
....but for now, thanks for reading this article and please be reassured that we are listening, and would welcome your views.