Natroma is open again!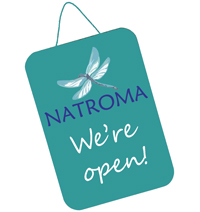 We're very pleased to let everyone know that after being a victim of the UK covid 'pingdemic', Natroma is open again!
It's been a very frustrating week for us, since we're both double jabbed and have felt fit and well throughout (proved by a series of negative lateral flow tests).
We are so sorry that we were forced to be closed this week, since we wanted to work, but have followed the Government rules (thank goodness they'll be changing soon). We know how frustrating this situation has been for our customers and for the massage clients who had their holistic therapy appointments cancelled.
So, a huge thank you for the messages of support and for your patience - normal service has now resumed and we'll be busy processing your orders again this week.
Our Stourbridge shop will be open this week as normal Thursday - Saturday 10.30am till 4pm and we're accepting Holistic Therapy appointments again!