Grapefruit essential oil
Essential Oil Profile: Grapefruit - citrus paradisi
We love grapefruit for it's bright, zingy aroma. It's a lovely choice for home fragrancing but has quite a few aromatherapy uses too. It has a reputation for being an uplifting essential oil, which is why it's often recommended for SAD syndrome. The essential oil comes from the cold pressed skin of the grapefruit, and unusually for an expressed citrus oil it is not considered to be photo toxic when applied to the skin.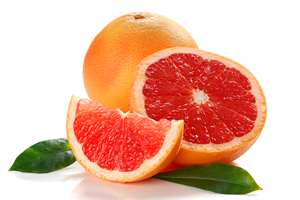 Fragrance Note: Top note - fresh, citrus with a sweet note
Method of extraction: Cold pressed from the skin of the grapefruit
Country of origin: Asia, USA, Brazil, Israel
Botanical family: Rutaceae
Primary components: Limonene, Citral, Linalool
Aromatherapy properties: Antidepressant, antiseptic, diuretic, stimulant, disinfectant.
Common aromatherapy uses: Grapefruit has aromatherapy properties that are similar to lemon essential oil. It is said to be a lymphatic stimulant so can be found in skincare products developed for cellulite and fluid retention, so this would make it a good choice for an aromatherapy body massage oil. It's often used in natural facial skincare, particularly for acne and oily skintypes. Like all essential oils it needs to be diluted into a carrier oil before skin application, but it's considered to be safe and non-toxic for most people. It's a lovely essential oil to use when you need to feel uplifted, and seems to revive the mood when you're feeling a little down.
Our aromatherapy suggestions: We like to use grapefuit in combination with other sweeter essential oils - perhaps, rosewood, ylang ylang or geranium. A particularly lovely combination is with geranium, since the grapefruit enhances the deeper rosy aroma and you can enjoy the best of both worlds - emotional balance from the geranium, and a brighter outlook from the grapefruit. In our aromatherapy treatments, we find this blend helps many clients who are feeling stressed or a little depressed (particularly where the person is feeling exhausted after a long period of upset). Grapefruit offers a light, fresh and uplifting aroma to brighten the mood and make things feel a little better. It's a nice choice to add to an aromatherapy body massage oil - great for massaging the thighs or areas of sluggish circulation.
Contraindications: Grapefruit essential oil is considered to be a safe essential oil, but discontinue skin application if there are any adverse reaction. Grapefruit is considered to be safe to use during pregnancy, but seek additional advice from your doctor or midwife where there are any concerns.
General safety considerations: Essential oils are highly concentrated and must be used with understanding and care. Never take internally. Seek additional medical advice before use when pregnant or where there are any serious underlying health conditions. Use extra caution when using essential oils with children, and only select the mildest essential oils and use at a lower dose than for an adult. Store cool and dark, away from animals and children. Always purchase aromatherapy grade essential oils in glass (amber or darker coloured, never clear) dropper bottles with a safety dispenser (dropper) attachment. Dilute into a suitable carrier oil before skin application. Read and follow contraindication advice on the bottle.