Festival Soap
It's Festival soap time again!
Every 2 years, Stourbridge welcomes the International Festival of Glass. It's the chance to see the world's best glass artists and their inspirational work in the biennale exhibition. Luckily we've always had business premises in the Stourbridge glass quarter, and the sites where we've been located have been used as venues during the Glass Festival. We love looking at the beautiful glass artwork, so in honour of the big event, we always create a special edition Festival soap. (It's listed with our organic goat's milk soaps)
This year, we've decided (by popular customer demand!) to return a favourite variety as the Festival soap. It was last seen in 2016, when we called it 'Celebration' - our 10th Birthday soap. We've had so many customers asking if we'd repeat this soap again, we thought we'd better give in to demand. It's a limited edition organic goat's milk soap, so catch it while you can!
We hope you enjoy the lovely cedarwood and lavender fragrance again, in this pretty organic goat's milk soap. Once again each bar is pattered with purple swirled soap patterns and calendula petals. This year each bar is wrapped in hand stamped paper (it's covered in pretty metallic dragonflies) with a satin ribbon. We hope you enjoy!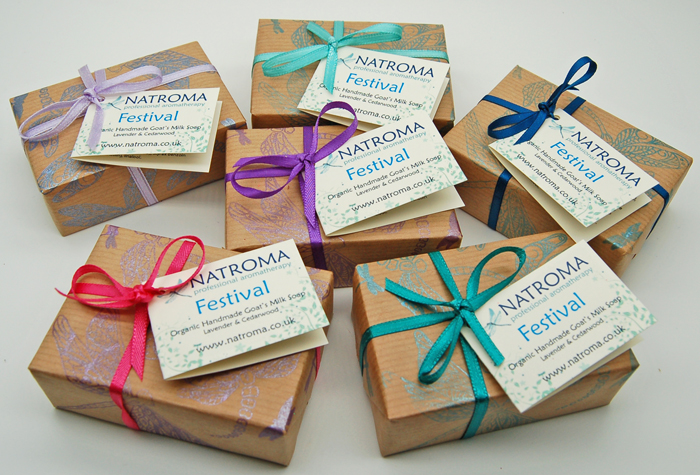 The International Festival of Glass runs between 25th - 28th August at Ruskin Glass Centre and other venues in Stourbridge. Our shop will be open 10am till 4pm each day, so why not call in to purchase your bar of Festival while you're enjoying the glass exhibition and demonstrations! There will be a £6.50 gate charge at Ruskin Glass Centre during the Glass Festival, but if you're coming on site just to see us mention this on the gate and you shouldn't be charged. After this we'll be taking a late Summer break, so our shop will be closed until 9th September. Website orders will be processed as normal.