Natroma Christmas 2020
Natroma Christmas & New Year Break
Our thanks to everyone for your support this year. We are now closed for Christmas and will be taking an extended Christmas and New Year break.
We cleared all of our website orders before we closed the shop, so we hope everything arrives in time for Christmas.
HAPPY NEW YEAR!
Updated 31st December 2020....a change of plan!
Our shop is located in a Tier 4 area, so we have shelved our plans to take an extended break since we now can't re-open our shop for the foreseeable future.
So we'll be operating via the website and will be up and running again early in the New Year.
We're popping into the workshop on a regular basis, so the good news is that we'll be clearing the backlog of orders received between Christmas and New Year. They will be posted out from 4th January 2021 onwards.
We have decided to turn off Click & Collect on the website since we do not wish to encourage unnecessary travel in the area.
Instead we will begin to offer local deliveries to certain areas of Stourbridge, Halesowen and Dudley (within a 3-4 mile radius of the workshop). Deliveries will resume from 8th January 2021 onwards, and will most likely be offered on Thursday/Friday of each week. We'll continue to process website orders and offer local deliveries until we're allowed to re-open our shop again.
In the meantime, keep safe everyone and we wish you a Happy New Year!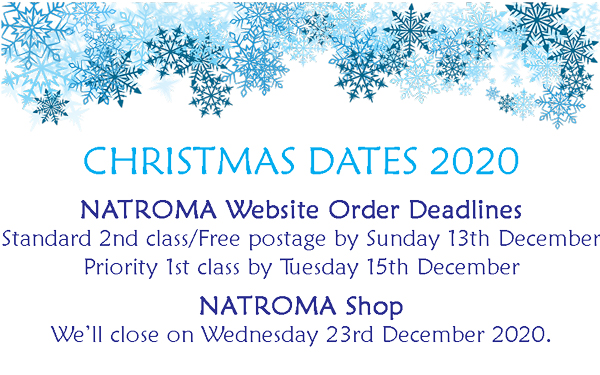 ORDER DISPATCH UPDATE - 4.30pm on 22nd December 2020 - it is now too late for us to ship Christmas orders. We have cleared every order we received during December so our parcels are on their way and will hopefully arrive soon. We are aware that there are many postal delays around the UK, so we are sorry if Royal Mail are unable to deliver your items before Christmas. We did everything that we could to get parcels on their way, and in many cases upgraded the postage at our expense to try to speed up deliveries. We will continue to process any late orders that arrive on Wednesday 23rd December before we close for the year, but these orders will arrive after Christmas. Natroma will be closed for an extended break until Saturday 16th January 2021. Orders received while we are closed will be processed when we return, in the date order in which they arrived. Orders with Priority shipping will be dispatched first with Standard and free delivery orders delayed until w/c 18th January 2021.
Throughout December we will continue to ship orders as normal, but Royal Mail are advising us there are likely to some postal delays. In our experience most of our parcels are taking 3-5 working days to arrive (this is after we take them to the Post Office) with occasional longer delays in certain parts of the country. We'll do everything we can to send out orders as soon as we can and thank you for your ongoing custom, patience and understanding in these difficult times.
Christmas Order Deadline - please place your orders by midnight Sunday 13th December 2020.
If you are ordering gifts for Christmas, our advice is to order as soon as possible. Please remember that we make and package many of the products ourselves. Our hampers are wrapped to order and many customers request personalised gift messages - this type of bespoke service takes time.
This year our cut off date for Christmas orders is Sunday 13th December 2020.
After this date we strongly recommend that customers select Priority postage (1st Class Royal Mail) or Courier (DPD) shipping otherwise your items will not arrive in time for Christmas.
We will continue to package and ship orders every day until we close for Christmas on 23rd December, but due to the expected Royal Mail delays there is no guarantee that late orders will arrive in time for Christmas. We have been upgrading the postage on some larger orders where we can see there are Christmas items in the order, but our Christmas deadline has passed. Orders with Standard and free delivery will continue to be processed until 22nd December and will these orders will arrive after Christmas. Please bear in mind that if a parcel does not arrive in the coming days, we have to wait for 10 working days after the expected arrival date before we can ask Royal Mail to investigate what happened.